Zone 1
Covers postcodes beginning with NR1, NR2, NR3, NR4, NR5, NR6, NR7, NR8, NR9, NR10 and NR14
Free Delivery
Zone 2
Covers postcodes beginning with NR11
£10 Delivery
Zone 3
Covers postcodes beginning with NR12, NR13, NR15, NR16, NR17, NR18, NR19, NR20, NR21, NR22, NR23, NR24 and NR25
£20 Delivery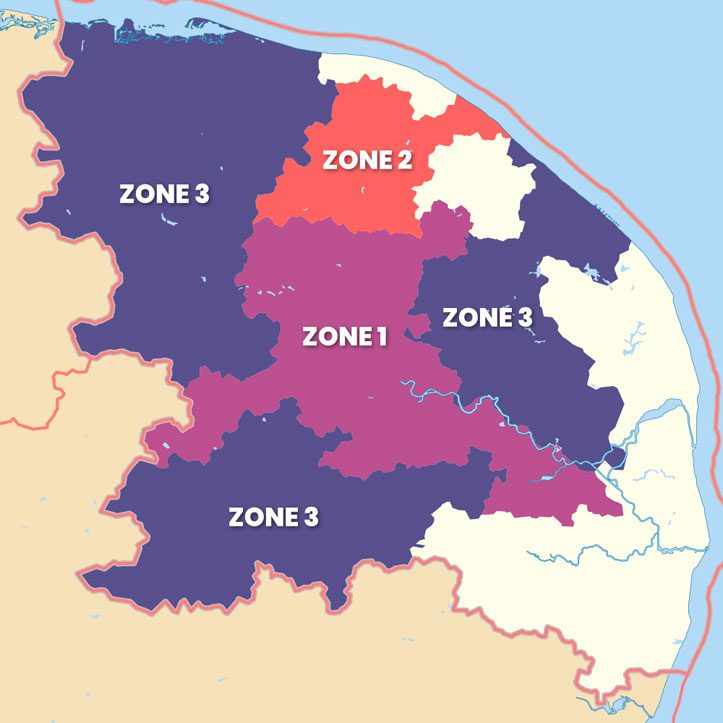 What size skip do I need?
This depends on what type of waste you've got to get rid of and how much of it. If you're unsure please don't hesitate to contact us in the office and we can help advise you what size could be best.
Please find a table below which may help you…
| | Drop Door | Enclosed | Dimensions (Approx) | Light or Heavy Waste | How many Bin Bags could fit? (Approx) |
| --- | --- | --- | --- | --- | --- |
| 2 Yard | No | No | 4ft x 3ft x 2.5ft | Both | 20-30 |
| 3 Yard | No | No | 6ft x 4ft x 3ft | Both | 30-40 |
| 4 Yard | Yes | No | 6ft x 5ft x 3ft | Both | 40-50 |
| 6 Yard | Yes | No | 8.5ft x 5ft x 3ft | Both | 50-60 |
| 8 Yard | Yes | No | 12ft x 5.5ft x 4ft | Both | 60-80 |
| 12 Yard | No | Yes (If Required) | 12ft x 5ft x 5.5ft | Light Only | 80-100 |
Things to consider for delivery
Minimum of a 3-metre entrance for our lorries to gain access
We have a smaller lorry which may be better suited if you don't have much space on your property
Are there any low hanging cables/wires?
Are there any obstructing walls?
Are there any manhole/drain covers?
Advise the driver where you would like it dropped, please don't move the skip as it may not be accessible when we return to collect it
Will you require a drop-down door on your skip? These are ideal when loading the skip with a wheelbarrow for example, the door can act as a ramp so you can wheel items in rather than lifting over and into the skip – perfect for getting rid of soil!
All our lorries have hydraulic legs which are used when loading & unloading the skips to help take the weight, we use protection where we're able to, trying to avoid causing any damage but we can't be held responsible for any damage caused.
Providing us with as much information as possible when booking your skip, means we're able to inform our driver with all the relevant information prior to arrival.
Information of where you'd like the skip positioned or any access issues help us with a quick and efficient service!
When will my skip be removed?
All our skips are a 7-day hire, we don't automatically collect on the 7th day but if you could let us know when you're finished with the skip, we aim to get it away ASAP for you. If you require the skip a little longer than the 7 day hire period, then please let us know when ordering and we can arrange a longer hire agreement with you.
Permits
Here at AKS we can arrange your Permits with the Council for you, we ask if you can give us as much notice as possible so we can insure it's arranged prior to delivery. As the hirer you will be liable to add lights and cones around the skip to conform with certain council regulations.
How do I know if I have Hazardous Waste?
Waste is generally considered hazardous if the material or substances it contains are harmful to humans or the environment.
Examples of hazardous waste include:
Asbestos
Paint Tins
Batteries
Gypsum
Tyres
Tvs
Fridges
Oil/Fuel
Gas Bottles/Cannisters
If you still aren't sure if the waste you have is hazardous check if the item has any labels on or call us to ask!
Hazardous Waste Skip – Asbestos
When hiring a hazardous waste skip from AKS we can ensure your waste is disposed of in the correct way following all safety regulations.
As the Hirer of the skip you are responsible for what goes in to your skip, so please ensure you follow these steps
Do not mix hazardous waste with non–hazardous waste
Do not mix hazardous waste with another type of hazardous waste
Why choose AKS for your Asbestos Removal?
Fully compliant paperwork
No asbestos job is too big or small, we have various sizing options available for you
Asbestos bags
Enclosed Skip
The enclosed option means your asbestos can be stored on site safely until removal.