For sites where one skip simply will not do the trick, AKS Skip Hire can provide Roll On Roll Off (RORO) containers on both short term and long term hire in Norwich and throughout Norfolk.
This solution is ideal for a larger waste management response, as we can supply a selection of containers to suit your requirements. Day to day build-up on-site can be difficult to control or manage for commercial or industrial organisations, as well as places like construction sites, demolition and commercial premises refits where large volumes of waste are produced as a necessary by-product.
This can include anything from soil, bricks and other construction materials to paper, cardboard, wood and metal. Other waste products often include waste electrical and electronic equipment. The one thing they have in common is that they require an appropriate response, and this is where our roll on roll off containers in Norfolk come in.
At AKS Skip Hire, we offer 2 options for our clients depending on their needs.
20 Cubic Yard
Our 20 cubic yard roll on roll off container is ideal for hire purposes in sites dealing with modest amounts of general waste.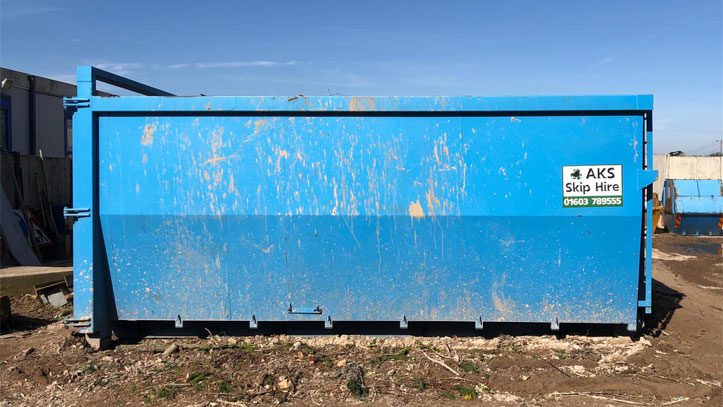 40 Cubic Yard
Our larger option for roll on roll off hire is suited for sites dealing with high volumes of waste and rubbish.
Same day delivery comes as standard. Tonnage Applies (minimum of 2 tonne)
You can hire one of our roll on roll off containers for an upfront payment of £160 and 2 tonne of waste minimum @ £150 each , total upfront cost of £460. Your roll on roll off will be weighed on the spot and you pay and additional £150 per tonne of waste , over the original 2 tonne, we can offer discounts to clients filling their RORO with soil, brick or other inert waste.
All materials are taken to our waste disposal facility where we aim to recycle as much material as possible, and have recently achieved our target of 100% of all material recycled, which means that landfill use in Norwich and Norfolk is 0%.